About
From the back streets of South London to working with Captains of Industry, and many of the world's biggest stars. It's been one hell of a journey.
Biography
Having got my first two job interviews lined up, I was offered the very first job on the spot, which was pretty convenient really, as I couldn't find my way to the second interview, at a cartographers. So, purely by accident I found myself working as a messenger boy in the newly opened London office of Doyle, Dane Bernbach Ltd, an American Ad Agency that was about to change the face of UK advertising forever.
My messenger boy colleagues taught me to run behind buses and pocket the bus fare, I went one better, and ran behind taxis and doubled my salary.
After biting the ankles of the agency's Creative Director, I was eventually given a job in the Creative Department, I was to learn my craft from some of the greatest names in the advertising industry.
My skills took me on through several top worldwide ad agencies, rising to the dizzy heights of Creative Director with a seat on the board, then on to run my own ad agencies, helping grow many of the world's biggest brand names along the way. Names including British Airways, Dulux, Volkswagen, NatWest Bank, L'Oreal, Toyota, London Transport, The Daily Mail, the list is endless. I have also accumulated quite a few gongs, several New York Clio's and Gold and Silver Lions at Cannes amongst them.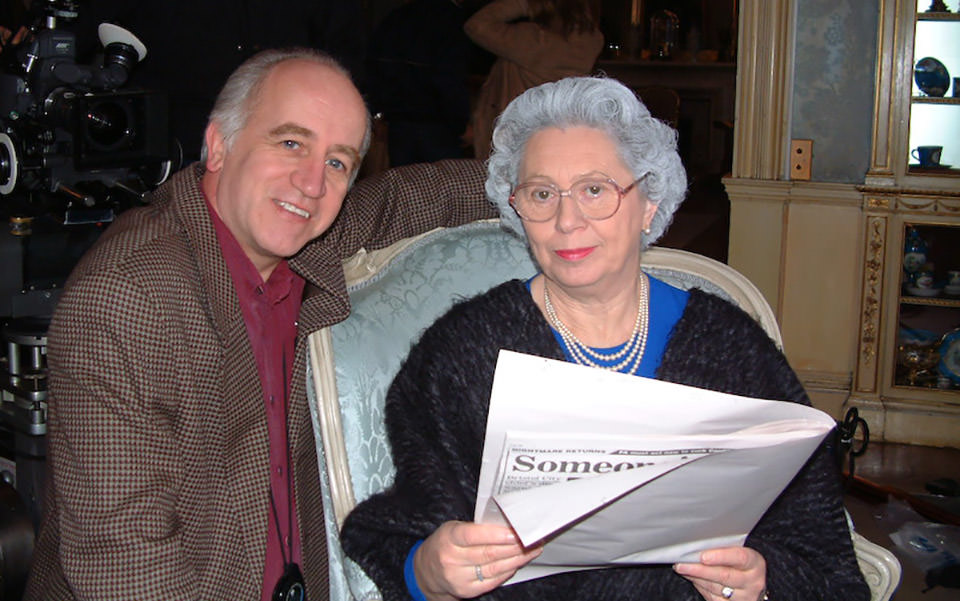 A Guinness World Record... and a few giggles
Producing high quality, fast turnaround, low budget TV commercials has earned me a Guinness World Record. I have written and directed more commercials than any individual in the world, at the last count the figure stood somewhere north of 2,000 ads. I have also, on several occasions broken records by getting ads from brief to on air in a matter of hours, and it must be said, without losing any of the quality in the production whatsoever.
It was in 1992 that I decided to Direct my own commercials, I've also appeared in a few. My many, many film shoots have been so enjoyable that film crew queue up to work with me. My theory is, "Happy shoots show on the celluloid".
I also work at break neck speed and have been known to crack on through over 35 set-ups in one day, and there was still time for a laugh along the way.
Every one of my shoots has a myriad of stories attached to them, and story-telling is one of my favourite pastimes, there are a wealth of stories to be told, and if you're unlucky I will tell them...Being arrested on the Mall.. Followed round London by the KGB.. Having my car followed by the Sun newspaper in a helicopter.. An embarrassing encounter with the late Princess Diana.. The stories really are endless.
Comedy Writer, Lyricist, Librettist, Rebel!
This all goes hand-in-hand with my many other enjoyable pass times, writing comedy, many a script has appeared on TV. Writing lyrics, listen to my list of songs. With my song writing partner David Smart I'm currently engaged in several new assignments. There's also a controversial song which, in the style of the 60s protest songs, tears apart the British Justice system. We are also currently searching for a home for our spectacular stage musical, a musical where the subject is one of the world's greatest Icons; Diana Princess of Wales. The musical is a celebration of the life of Princess Diana, not a conspiracy theory in sight. This show's content is a very fresh, yet traditional musical, with its mixture of 14 original tracks, and a unique presentation of the fascinating fairy story which captivated the whole world.
I've always claimed that "If an idea isn't dangerous, it isn't an idea at all".
Stars in my eyes
I've worked with, and directed some of the biggest names in film and TV, the list is quite impressive, it includes Michael Caine, Joan Collins, Anthony Hopkins, John Hurt, Bruce Forsyth, Norman Wisdom, Chris Tarrant, Ronnie Barker, to indulge in a little name dropping never does any harm. Get me on the stories of some of the famous faces I've worked with and you'll get many a laugh.
Black Jacks, Fruit Salads, Cricket Stumps On The Wall...
My book, 'Black Jacks, Fruit Salads, Cricket Stumps On The Wall...' was published on October 27th 2011, by the Book Guild. It's a light-hearted look at growing up in London in the 1950s, many of the 50s scenes have been recreated photographically under my direction. The book also contains an emotional tribute to 'The Few', the courageous pilots who fought the Battle of Britain, securing a safe future for the rest of us to enjoy. The book has been endorsed by Dame Judi Dench and Ray Winstone, you really can't get better than that. Even Prime Minister David Cameron, in a letter to me said; 'What a beautiful book'. The book also got into the Daily Mail's Top Ten Christmas Books 2011. Read More
Retiring is for old people
If you were to mention retirement to me, well, I'll tell you: 'Retiring is for old people, I'm getting older, but I'm not getting old. I will retire when they screw down the lid. I've far too much experience to share. There's far too much left for me to do'.
Services
Low budget. High quality. Fast turnaround film and TV production.
Big ideas for the communications industry
The full service ad agency, minus the fuss and the costs
No huge overheads, savings passed on directly to clients
Creative department and Film/TV crew on 24 hour standby
Contact Me
Experience
50 years experience

I started my advertising career at the newly opened London office of Doyle Dane Bernbach in 1965. I've worked with some of the most talented people in the industry, on both sides of the camera. It was they who taught me my craft.
I moved on via McCann Erickson and Foote Cone & Belding, as an Art Director/Writer, moving up to Creative Director with a seat on the board.

World record holder

I am the proud recipient of a Guinness World Record. I have created more TV commercials than anyone else in the world. I also hold the unofficial record, from client brief to on-air in three and a half hours.

Leading clients

I have worked with many of the world's biggest clients, helping grow their famous brands. From the worldwide launch of British Airways to writing and directing several TV commercials each week for the Daily Mail.
Work ethic

Where you'll find the finest creative thinking. Where communication problems are very quickly solved with the simplest creative solutions, produced to the highest possible quality of production, and always within budget.
By extending that same creative thinking, those big ideas which helped grow many of the world's biggest brands, into other areas of the arts and entertainment, there's a much wider understanding of communications. Direct a message to one person, and everyone will listen.
Brian Watson: Writer. Commercials Director. Author. Lyricist
Call 07831327963 or Email